Old-Fashioned Apple Pie
By
Paula Deen
JUMP TO RECIPE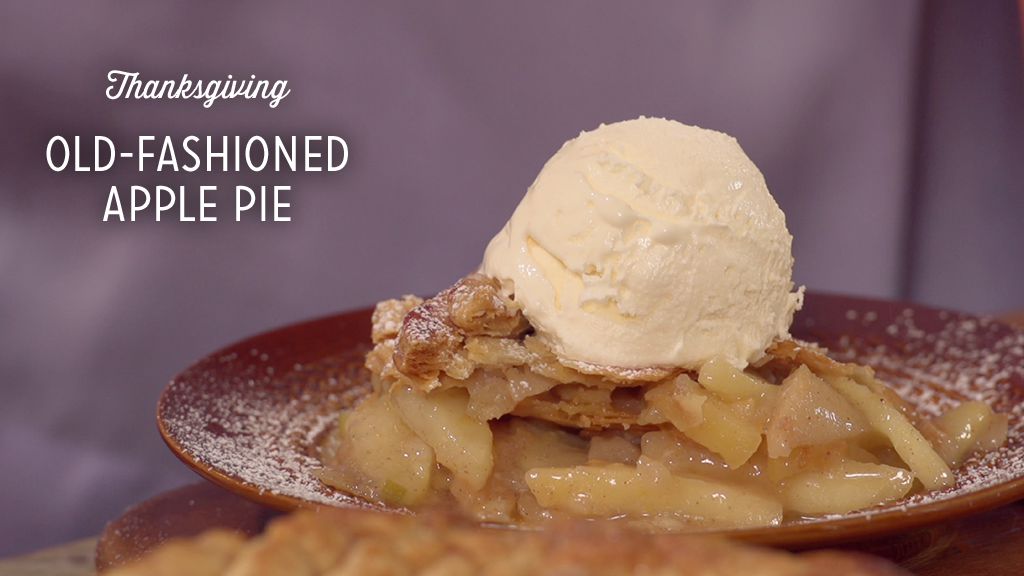 Difficulty: Medium
Prep time: 60 minutes
Cook time: 60 minutes
Servings: 60
Ingredients
2 1/4 cups plus 1 tablespoon, divided all purpose flour
1 tablespoon plus 1/2 cup + 1 teaspoon granulated sugar
3/4 teaspoon plus 1/2 teaspoon salt
1 cup (2 sticks) cold, cut into pieces unsalted butter
4 tablespoons (up to 6 tablespoons) ice water
1 lightly beaten egg
1 tablespoon milk
6 large Braeburn, Granny Smith and Fuji, peeled, halved, cored and cut into 1/4-inch-thick slices apples
1/4 cup light brown sugar
1 tablespoon lemon zest
2 tablespoons lemon juice
1 teaspoon ground cinnamon
6 tablespoons cold, cut into small pieces butter
Directions
To make the crust, put the 2 1/4 cups flour, 1 tablespoon sugar and 3/4 teaspoon salt in a food processor; pulse until blended. Add the unsalted butter and pulse until the butter is the size of peas. Add 4 tablespoons of the ice water and pulse 3 or 4 times.
The dough should hold together when squeezed with your fingers, but should not be sticky. If it is too dry, add more water, 1 tablespoon at a time, pulsing until the mixture just begins to come together. Do not over process.
Gather the dough into a ball and cut in half. Pat each half into a disk and cover with plastic wrap. Refrigerate until well chilled, at least 1 hour or overnight.
To make the filling, combine the apples, 1/2 cup sugar, light brown sugar, lemon zest, lemon juice, 1 tablespoon flour, cinnamon and 1/2 teaspoon salt in a large bowl; toss until well mixed.
Position the rack in bottom third of oven and preheat the oven to 400 °F.
On a lightly floured surface, roll out one disk of dough to a 12-inch round; ease into a 9-inch glass pie plate. Trim the excess dough flush with the edge of the pie plate. Reserve the trimmings for decorating the pie.
Spoon the filling into the crust and dot with 6 tablespoons cold butter cut into small pieces. Roll out the remaining disk of dough to a 12-inch round. Place over the filling, trimming the crust flush with the edge of the pie plate. Press the edges to seal.
Gather the reserved trimmings and divide into 9 pieces. Roll each piece into a 12-inch long rope, braiding three ropes together at a time.
Brush the crust lightly with some of the egg wash and secure the braids along the edge of the crust, stretching or cutting to fit.
Sprinkle the top of the pie with the remaining 1 teaspoon sugar. Cut a few slits in the top to allow steam to escape.
Bake for 20 minutes. Reduce the oven temperature to 350 °F and bake until the crust is golden and the filling is bubbly, about 1 hour longer, depending on the type of apples used. If the crust begins to brown too quickly, cover the rim of the pie with strips of aluminum foil. Cool the pie on a rack at least 3 hours before serving.