Oatmeal Chocolate Chip Cookies
By
Paula Deen
JUMP TO RECIPE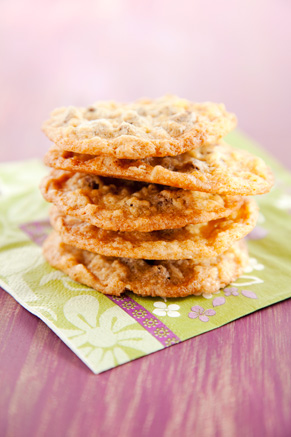 Difficulty: Easy
Prep time: 10 minutes
Cook time: 10 minutes
Servings: 10
Ingredients
2 sticks room temperature butter
3/4 cup packed brown sugar
3/4 cup sugar
1 teaspoon vanilla
1/2 teaspoon water
2 eggs
1 1/2 cups all purpose flour
1 teaspoon baking soda
1/2 teaspoon salt
2 cups quick cooking oats
2 cups chocolate chips
Directions
Preheat oven to 350 °F.
Spray pan with nonstick cooking spray. In medium bowl whisk together flour, baking soda and salt. In a separate large mixing bowl, using a hand mixer, cream butter and sugars until fluffy. Add eggs one at a time until fully incorporated. Add vanilla and water and beat until fully incorporated. Add dry ingredients to the butter mixture. Stir in oats and chocolate chips. Using a teaspoon, drop dough on prepared baking sheet and bake for 7 minutes. Cool on wire rack.
Notes from the Paula Deen Test Kitchen: We always use parchment paper on cookie sheet. Makes for easier clean up. A cup of chopped pecans makes these cookies even yummier!