Monster Cookies
By
Paula Deen
JUMP TO RECIPE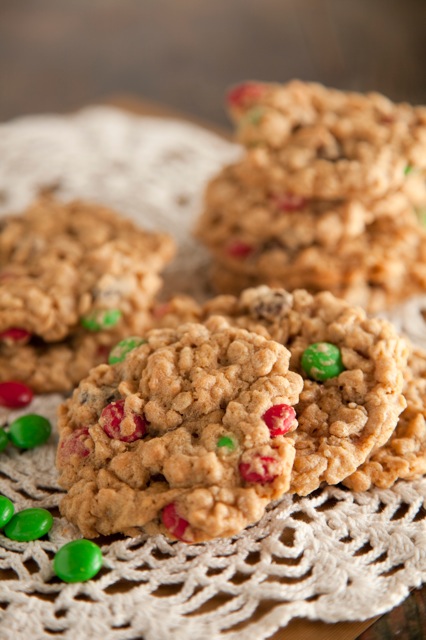 Difficulty: Easy
Prep time: 10 minutes
Cook time: 10 minutes
Servings: 10
Ingredients
1/4 cup optional raisins
1/2 cup chocolate chips
1/2 cup multi-colored chocolate candies
1 stick softened butter
1 (12 oz) jar creamy peanut butter
1/2 teaspoon vanilla extract
1/2 teaspoon salt
1 cup granulated sugar
1 1/4 cups packed light brown sugar
3 eggs
2 teaspoons baking soda
4 1/2 cups not instant quick-cooking oatmeal
Directions
Preheat the oven to 350 °F. Line cookie sheets with parchment paper or nonstick baking mats.
In a very large mixing bowl, combine the eggs and sugars. Mix well. Add the salt, vanilla, peanut butter and butter. Mix well. Stir in the chocolate candies, chocolate chips, raisins (if using), baking soda and oatmeal. Drop by tablespoons 2 inches apart onto the prepared cookie sheets.
Bake for 8-10 minutes. Do not overbake. Let stand for about 3 minutes before transferring to wire racks to cool. When cool, store in large resealable plastic bags. Makes about 3 dozen cookies.