Monster Club
By
Paula Deen
JUMP TO RECIPE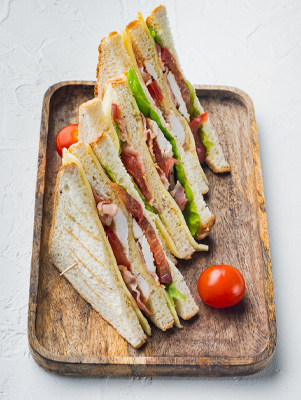 Difficulty: Easy
Ingredients
2 pounded to 1/4-inch thickness boneless skinless chicken breasts
1 (8-ounce) bottle italian salad dressing
3 sprigs fresh rosemary
1 cup mayonnaise
1 tablespoon white vinegar
1 tablespoon chopped fresh thyme
1 teaspoon lemon zest
12 slices white bread
8 slices cooked bacon
8 slices plum tomato
8 slices deli ham
4 slices muenster cheese
Directions
Cut each chicken breast into 2 equal serving portions. In a large re-sealable plastic bag, combine the chicken, salad dressing, and rosemary sprigs. Seal the bag, and marinate in refrigerator for at least 2 hours.
Spray a grill rack with nonstick, nonflammable cooking spray. Preheat the grill to medium-high heat.
In a large bowl, combine mayonnaise, white vinegar, thyme, and lemon zest; cover and refrigerate.
Drain the chicken, discarding marinade. Grill the chicken for 5 minutes per side, or until done.
Evenly spread the mayonnaise mixture on 1 side of all 12 bread slices. Top 4 bread slices each with 2 slices tomato, 1 grilled chicken breast half, 2 slices bacon, another bread slice, 2 slices ham, and 1 cheese slice. Top the sandwiches with the remaining 4 bread slices, mayonnaise mixture side down.
Wrap each sandwich in aluminum foil sprayed with nonstick, nonflammable cooking spray. Place the sandwiches on the grill rack. Top each sandwich with a brick, and grill for 6 minutes per side or until toasted. Unwrap sandwiches and serve immediately.