Moldy Guacamole With Creepy Critters
By
Paula Deen
JUMP TO RECIPE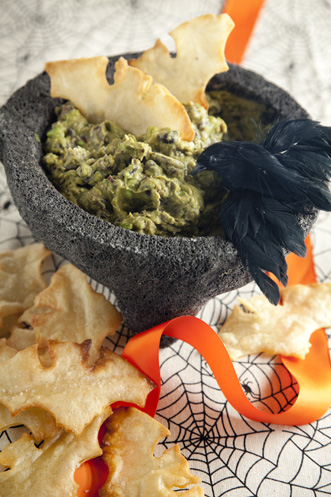 Difficulty: Easy
Prep time: 13 minutes
Cook time: 13 minutes
Servings: 13
Ingredients
2 ripe Haas peeled, pitted, and chopped avocados
2 tablespoons fresh lime juice
1/2 teaspoon salt
1/2 cup canned drained black beans
1/2 teaspoon ground cumin
to taste hot sauce
16 corn tortillas
2 tablespoons melted butter
Directions
For the Moldy Guacamole:
Combine avocados, cilantro, lime juice, and salt in a medium bowl; mash with a fork or pastry blender.
In another small bowl, combine black beans, cumin and hot sauce; mash with a fork. Stir black bean mixture into guacamole mixture.
For the Creepy Critters:
Preheat oven to 350 °F. Place tortillas on a cutting board. Brush both sides of tortillas with butter. Using Halloween cookie cutters, cut shapes from tortillas. Arrange shapes in a single layer on two large baking sheets; sprinkle with desired seasoning, if you wish (kosher salt, garlic salt, seasoning salt, Greek seasoning, chili powder seasoning, etc.) Bake until golden brown and crisp, rotating the baking sheets once, about 12 to 15 minutes.