Mixed Greens and Citrus Salad with Cranberry Vinaigrette
By
Paula Deen
JUMP TO RECIPE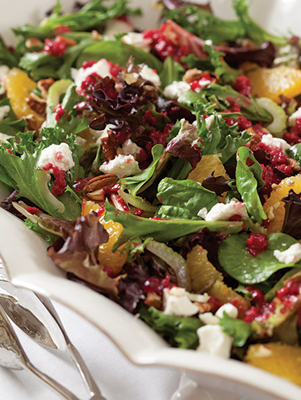 Featured in:
Cooking with Paula Deen Magazine
Difficulty: Easy
Prep time: 10 minutes
Servings: 10 to 12
Ingredients
2 (5-ounce) packages fresh spring mix lettuces
1½ thinly sliced celery
3 navel oranges, peeled and segmented
½ cup chopped toasted pecans
1 (8-ounce) package goat cheese, crumbled
1½ cups fresh cranberries
⅓ cup apple cider vinegar
⅓ cup extra-virgin olive oil
¼ cup honey
1 tablespoon whole-grain mustard
1 teaspoon salt
Directions
In a large bowl, combine lettuce mix and next 4 ingredients.
In the work bowl of a food processor, combine cranberries and remaining 5 ingredients. Process for 15 to 30 seconds or until cranberries have been minced and mixture is well combined.
Drizzle cranberry mixture over lettuce mixture, tossing to combine.