Apple Cranberry Stuffing
By
Paula Deen
JUMP TO RECIPE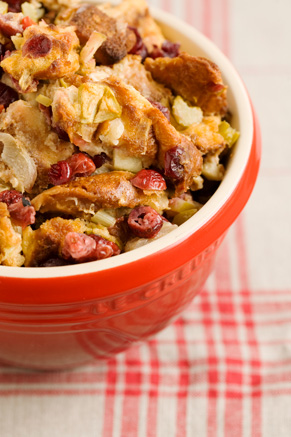 Difficulty: Easy
Prep time: 40 minutes
Cook time: 40 minutes
Servings: 40
Ingredients
2 cups chicken broth
1 cup dried cranberries
1/4 cup butter
1 chopped onion
1 chopped red bell pepper
1 cup chopped celery
2 cored and finely chopped Granny Smith apples
3 large eggs
1/2 teaspoon salt
1/4 teaspoon black pepper
1 (10.75 oz) can cream of celery soup
1/2 teaspoon ground cinnamon
8 cups cubed and toasted Hawaiian sweet bread
Directions
Preheat oven to 350 °F. Lightly grease a 13 by 9 by 2-inch baking dish.
In a small bowl, combine chicken broth and cranberries; let soak for 30 minutes.
In a large skillet, melt butter over medium heat. Add onion, pepper and celery; cook for 5 minutes stirring frequently or until tender. Add apples and cook for 5 minutes, stirring frequently. Remove from heat and place in a large bowl.
Beat 3 eggs in a separate bowl. Add salt and pepper. Set aside.
In the large bowl with vegetables, stir in chicken broth mixture, celery soup, and cinnamon. Add toasted bread, stirring gently to combine. Add eggs. Spoon mixture into prepared dish and bake for 30 to 40 minutes or until center is set.