Mini Whoopie Pies
By
Deen Brothers
JUMP TO RECIPE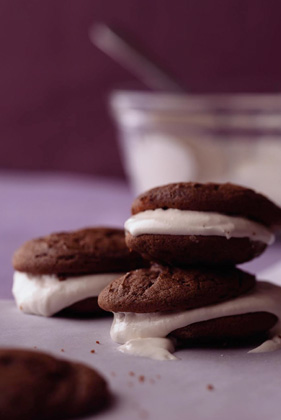 Featured in:
The Deen Bros. Recipes from the Road
Difficulty: Easy
Servings: about 24 pies
Ingredients
2 1/4 cups all-purpose flour
1/2 cup unsweetened cocoa powder
1 teaspoon baking soda
2 teaspoons cream of tartar
1 teaspoon salt
2/3 cup vegetable shortening
1 1/4 cups granulated sugar
2 large eggs
2 teaspoons vanilla
1 cup milk
1/2 cup 1 stick unsalted butter
1 cup confectioners' powdered sugar
2 cups marshmallow creme
1 teaspoon vanilla
Directions
Preheat oven to 350°F. Grease 2 large baking sheets; set aside.
In a bowl, whisk together the flour, cocoa, baking soda, cream of tartar, and salt; set aside. In the bowl of an electric mixer, cream together the shortening and granulated sugar. Beat in the eggs and the 2 teaspoons vanilla. Alternately add the flour mixture and milk, beating until fully combined.
Drop dough by tablespoons 2 inches apart onto prepared baking sheets. Bake for 8 to 10 minutes or until darker around the edges and firm to the touch. Transfer cakes to a wire rack to cool completely.
For the filling, beat together the butter and confectioners' sugar. Beat in the marshmallow creme and the 1 teaspoon vanilla until smooth. Spoon about 1 tablespoon filling onto the bottom of a cake. Press the bottom of a second cake against filling to make a sandwich. Repeat with remaining cakes and filling. To store, layer whoopie pies between sheets of waxed paper in an airtight container and refrigerate for up to 2 days.