Mini Muffalettas and Olive Salad
By
Suzette and Amy, The Sweet and Savory Sisters
JUMP TO RECIPE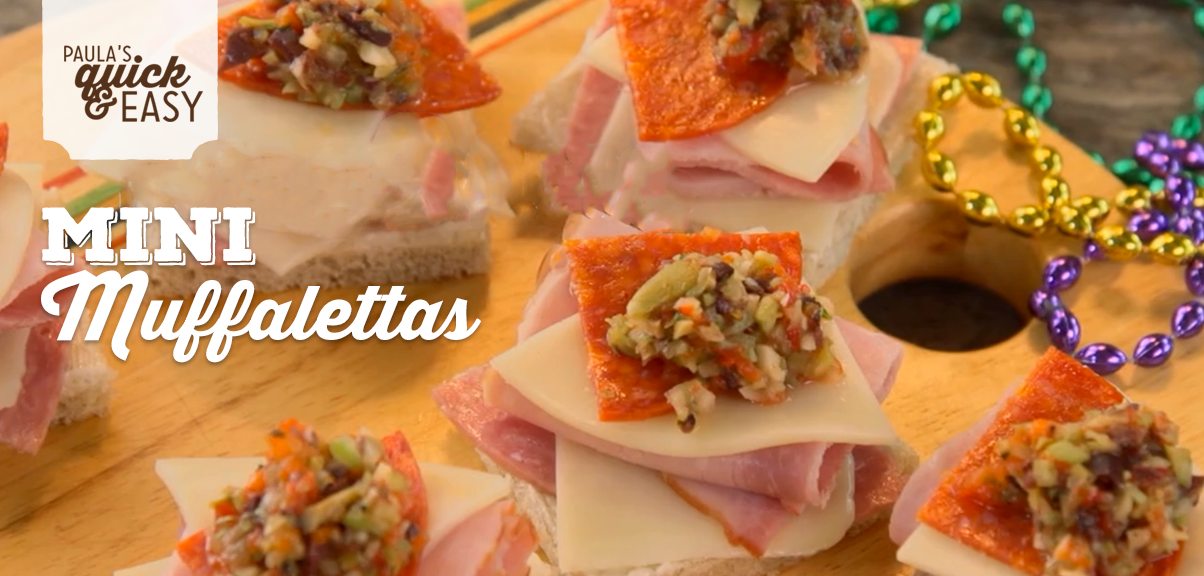 Difficulty: Easy
Prep time: 10 minutes
Cook time: 10 minutes
Servings: 10
Ingredients
1 loaf (or Jewish rye) pumpernickel bread
4 tablespoons softened butter
1 lb thinly sliced genoa salami
1 lb thinly sliced deli ham
1 lb thinly sliced pepperoni
3/4 lb thinly sliced provolone
3/4 lb thinly sliced mozzarella
3 large cloves crushed garlic
1 cup chopped green olives stuffed with pimento
1 cup (or ripe black olives) pitted and chopped kalamata olives
1/4 cup finely chopped celery
1/2 cup chopped roasted red peppers
3/4 cup olive oil
2 tablespoons white wine vinegar
3 tablespoons chopped fresh parsley
1/2 teaspoon Italian seasoning
Directions
In a medium-sized bowl, mix garlic, olives, celery, parsley, roasted red peppers, olive oil, white wine vinegar and Italian seasoning.
Cut each slice of bread into 4 equal pieces. Cut meat into similarly sized squares.
Spread a thin layer of butter on each slice of bread. Layer meats and cheese onto each slice, starting with salami, then provolone, ham, mozzarella and finally, pepperoni. Top each square with a spoonful of olive salad.