Mini Burgers
By
Paula Deen
JUMP TO RECIPE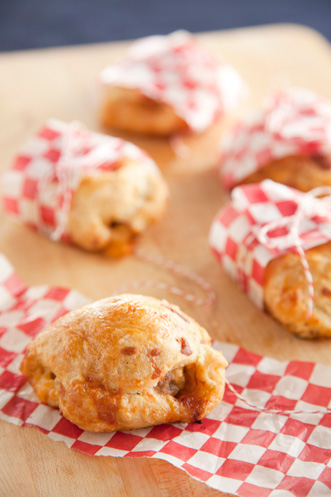 Difficulty: Medium
Prep time: 12 minutes
Cook time: 12 minutes
Servings: 12
Ingredients
8 oz ground beef
2 teaspoons ketchup
2 teaspoons dijon mustard
1/4 teaspoon salt
1/4 teaspoon freshly ground black pepper
1 tablespoon extra virgin olive oil
1 (from a 17.5-ounce packag)e puff pastry sheet
2 oz (about 1/2 cup) shredded cheddar cheese
1 large beaten with 1 teaspoon water egg
Directions
Preheat oven to 400 °F. Line a rimmed baking sheet with parchment paper; set aside.
In a large bowl, mix together the beef, ketchup, mustard, salt and pepper. Form the mixture into 8 equal-size patties. In a large skillet, over medium-high heat, brown the patties for 1 to 2 minutes.
On a lightly floured surface, unfold the pastry and roll out. Cut the pastry lengthwise into 4 equal strips, then cut strips in 1/2 crosswise. Place 1 patty on each strip and top with cheese. Fold the pastry up around the burgers and pinch the edges together to seal, molding to fit around the patties. Brush the tops of the pastries with the egg mixture.
Place the mini burgers on the prepared baking sheet. Bake for 12 to 15 minutes or until puffed and golden. Let stand for 5 minutes before serving.