Memphis Dry Rub Ribs
By
Paula Deen
JUMP TO RECIPE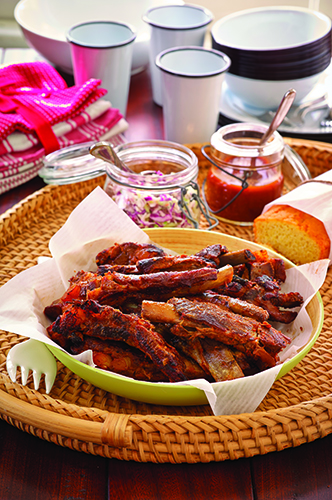 Difficulty: Easy
Ingredients
2 tablespoons paprika
1 tablespoon chili powder
1 teaspoon dark brown sugar
1 1/2 teaspoons salt
1 teaspoon ground cumin
1 teaspoon freshly ground black pepper
1 teaspoon cayenne pepper
4 lbs (about 3 racks) back membranes removed and trimmed of excess fat pork spare ribs
Directions
In a small bowl, combine the paprika, chili powder, brown sugar, salt, cumin, black pepper, and cayenne. Rub the mixture all over the ribs. Cover the ribs loosely with plastic wrap and refrigerate for 3 hours.
Preheat the oven to 325 °F. Let the ribs come to room temperature for 30 minutes. Line a rimmed baking sheet with aluminum foil.
Place the ribs, membrane side down, on a wire rack set over the prepared baking sheet. Drizzle 3 tablespoons water into the bottom of the pan. Cover the pan tightly with foil and bake for 1 1/2 hours. Uncover and continue cooking until the ribs are very tender and lightly browned, about 30 minutes more. Test for doneness by poking a fork between the bones. Let the racks stand for 10 minutes before cutting into individual ribs.