Marinated Pork Tenderloin with Sticky Rice and Mangoes
By
Paula Deen
JUMP TO RECIPE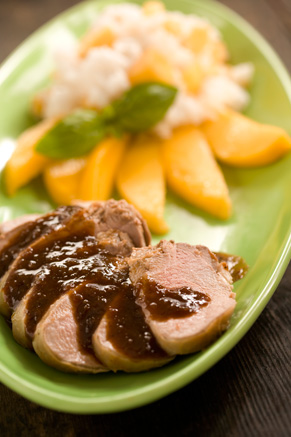 Difficulty: Easy
Prep time: 15 minutes
Cook time: 15 minutes
Servings: 15
Ingredients
1 (1-2 lb) pork tenderloin
6 oz (1/2 bottle) Paula Deen Savannah Marinade
1 cup uncooked jasmine rice
1 3/4 cups water
1 can coconut milk
2/3 cup sugar
1/2 teaspoon salt
2 tablespoons olive oil
2 peeled and sliced fresh mangoes
for garnish if desired fresh parsley
toasted for garnish if desired shredded coconut
Directions
Place pork tenderloin in a zip lock bag with 6 oz of marinade. Massage the marinade into the tenderloin. Seal bag and place in refrigerator for 6 hours or overnight.
Preheat oven to 350 °F.
In a medium saucepan, bring water to a boil. Add rice, stirring just to mix. Cover pan with a tight fitting lid, reduce heat to low and simmer for 20-25 minutes (until the water has been absorbed). In a small saucepan, combine the coconut milk, sugar and salt. Bring to a boil for 4 minutes, stirring constantly. Remove from hear and pour into the cooked rice. Stir well. Place a piece of foil or waxed paper directly on rice mixture and let rest at room temperature for 30 minutes.
While the rice is resting, prepare the tenderloin. Remove tenderloin from bag and place on a foil lined baking sheet. Brush with olive oil and place in the oven. Roast for 20 minutes per pound or until internal temperature reaches 150 °F. Remove from oven and let rest 10 minutes before slicing.
To serve: Place a scoop of sticky rice in the middle of plate and top with sliced tenderloin. Top with sliced mangoes, toasted coconut and a sprig a parsley for garnish.