Mama's Roasted Acorn Squash with Brown Sugar
By
Jamie Deen
JUMP TO RECIPE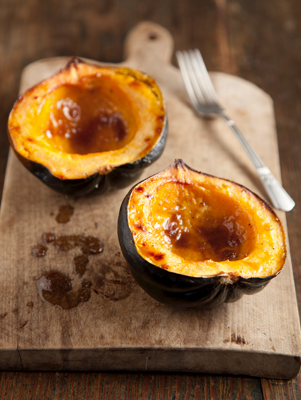 Featured in:
Jamie Deen's Good Food
Difficulty: Easy
Prep time: 10 minutes
Cook time: 1 hour
Servings: 4
Ingredients
2 medium acorn squash
5 tablespoons butter, at room temperature
3 tablespoons light brown sugar
2 tablespoons real maple syrup
2 teaspoons chopped fresh thyme
Kosher salt
freshly ground black pepper
Directions
Preheat the oven to 400˚F. Line a sheet tray with foil.
Slice each squash in half. Use a spoon to scoop out the seeds and discard them. Arrange the squash, cut sides up, on a sheet tray.
Combine the butter, brown sugar, maple syrup, thyme, and salt and pepper in a saucepan and bring to a boil. Remove from the heat and divide the melted butter mixture among the squash cavities, brushing some on the cut side of each squash. Bake for 1 hour, until the squash is tender when pierced with a fork.