Lighter Strawberry Rhubarb Ginger Crisp
By
Deen Brothers
JUMP TO RECIPE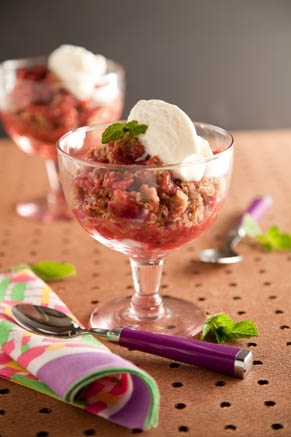 Difficulty: Easy
Prep time: 10 minutes
Cook time: 10 minutes
Servings: 10
Ingredients
3/4 cup rolled oats
1/4 cup all purpose flour
3 tablespoons packed brown sugar
3/4 teaspoon plus 1/2 teaspoon ground cinnamon
1/8 teaspoon salt
1 tablespoon cut into small pieces butter
1 tablespoon canola oil
1 lb trimmed and cut into cut into 1/2-inch pieces rhubarb
2 cups hulled and sliced strawberries
1/2 cup granulated sugar
1 to 2 tablespoons cornstarch
1 tablespoon grated and peeled fresh ginger
Directions
Preheat the oven to 375 °F. Spray a 1 1/2€" quart baking dish with cooking spray.
To make the topping, combine the oats, flour, brown sugar, 3/4 teaspoon cinnamon and salt in a medium bowl. With your fingers, mix in the butter and oil until the mixture is crumbly; set aside.
To make the filling, combine the rhubarb, strawberries, granulated sugar, cornstarch, ginger and 1/2 teaspoon cinnamon in a large bowl until well mixed. Spoon the filling into the baking dish. Sprinkle the topping evenly over filling. Bake until the filling is bubbly and the topping is lightly browned,
45 to 50 minutes. Serve warm or at room temperature.