Lighter Oven-Roasted Pistachio-Crusted Salmon
By
Deen Brothers
JUMP TO RECIPE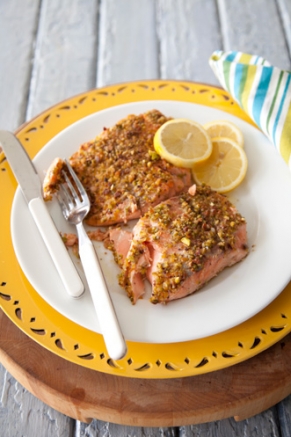 Difficulty: Easy
Prep time: 10 minutes
Cook time: 10 minutes
Servings: 10
Ingredients
3 tablespoons unsalted and shelled pistachios
1 tablespoon whole-wheat bread crumbs
1 teaspoon olive oil
2 4-ounce skinless salmon fillets
1/4 teaspoon salt
2 teaspoons dijon mustard
wedges, for serving lemon
Directions
Preheat the oven to 425 °F. Spray a small rimmed baking sheet with cooking spray.
Combine the pistachio nuts, bread crumbs and oil in a food processor until coarsely ground.
Pat the fillets dry with paper towels and sprinkle with the salt. Spread the mustard evenly on top of each fillet. Top the fillets evenly with the pistachio mixture pressing to form an even layer. Transfer the fillets, crust-side up, to the baking sheet. Roast until the salmon is just opaque in the center, 8 to 10 minutes. Serve with the lemon wedges.