Lighter Cheesy Bacon and Egg Casserole
By
Deen Brothers
JUMP TO RECIPE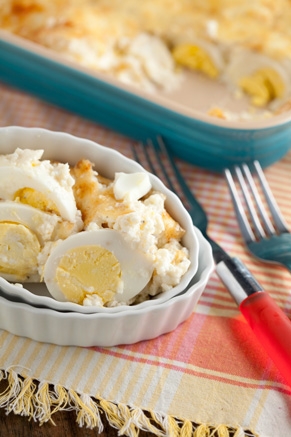 Difficulty: Easy
Prep time: 10 minutes
Cook time: 10 minutes
Servings: 10
Ingredients
6 hard-cooked eggs
2 teaspoons olive oil
1 diced red bell pepper
2 thinly sliced shallots
1 tablespoon all purpose flour
1 cup fat-free milk
1/2 teaspoon dry mustard
1/4 teaspoon salt
1/2 cup or swiss reduced-fat jarlsberg cheese
2 slices crisp-cooked and crumbled turkey bacon
Directions
Preheat the oven to 400 °F. Spray a medium baking dish with cooking spray. Cut the eggs lengthwise in half and place, cut-side down, in the baking dish.
Heat the oil in a medium nonstick skillet over medium-high heat. Add the bell pepper and cook, stirring frequently, until softened, about 5 minutes. Add the shallots and cook, stirring, until the tender, about 3 minutes.
Whisk together the flour and 2 tablespoons milk in a 2-cup measure until smooth. Whisk in the remaining milk, mustard and salt until blended. Add the milk mixture to the pepper mixture in the skillet, and cook, stirring frequently, until the mixture bubbles and begins to thicken slightly, about 2 minutes. Remove from the heat.
Pour the sauce evenly over the eggs in the baking dish. Sprinkle evenly with the cheese and bacon. Bake, uncovered, until bubbly around the edges and the cheese is melted, 15 to 20 minutes.