Leftover Holiday Eggnog and Breadpudding Cupcakes
By
Stefani Pollack
JUMP TO RECIPE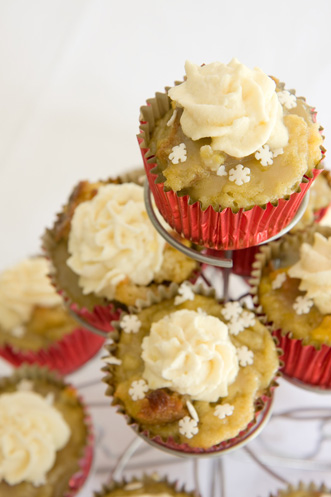 Difficulty: Easy
Prep time: 20 minutes
Cook time: 20 minutes
Servings: 20
Ingredients
5 cups stale torn into small pieces (while any stale bread will do, I used a French bread) bread
3/4 cup divided butter
1 1/2 cup divided sugar
3 teaspoons divided vanilla extract
2 cups (eggnog with or without alcohol added will work) eggnog
6 divided eggs
2 tablespoons divided whiskey
2 cups heavy whipping cream
Directions
For the Bread Pudding:
Put bread in a large bowl and mix with 1/2 cup melted butter. Mix in 1 cup sugar, 2 teaspoons vanilla, eggnog, and 5 eggs. Let sit for at least thirty minutes. Distribute evenly between cupcake liners. Bake at 350º for 20 minutes.
For the Whiskey Sauce:
Heat 1/2 cup sugar, 1/4 cup butter, and 1 egg in a small saucepan and stir until fully integrated. Remove from the heat and stir in 1 teaspoon vanilla and whiskey.
For the Whiskey Whipped Cream:
Whip whipping cream until light and fluffy.
Mix in whiskey sauce until integrated.