Gobbler Cobbler Pie
By
Mike Gilmore
JUMP TO RECIPE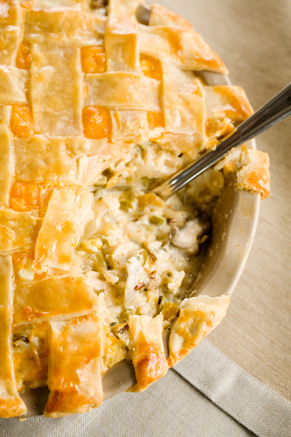 Difficulty: Easy
Prep time: 10 minutes
Cook time: 10 minutes
Servings: 10
Ingredients
1 cup mayonnaise
1 package sliced fresh mushrooms
1 diced green bell pepper
1 diced yellow bell pepper
1 medium diced onion
1 small can drained sliced water chestnuts
1 can drained French style green beans
1 package long grain wild rice
3 cups cooked chopped turkey
2 cups grated cheddar cheese
1 package preformed pie crust
1 tablespoon oil
1 teaspoon poultry seasoning
1 cup sour cream
1 beaten egg
Directions
Preheat oven to 350 °F.
Prepare the rice according to package instructions and set aside. Sauté onions, peppers, and mushrooms in oil and set aside.
Combine all ingredients except 1 cup of cheese and pie crust, into large bowl and mix well. Pour into greased 9-inch glass pie plate. Top with remaining 1 cup of cheese and set aside.
Roll out pie crust, cut into 1/2-inch wide strips and cover dish in lattice design, then brush dough lightly with egg.
Place in 350 °F oven for 30 minutes, when top is golden brown, remove, let cool, and enjoy.
This dish is an excellent way to use holiday turkey leftovers, plus it freezes well.