Leftover Halloween Candy Peanut Butter & Cream Cheese Ball
By
Paula Deen
JUMP TO RECIPE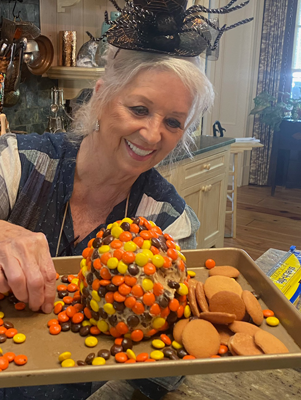 Difficulty: Easy
Prep time: 4-5 hours
Cook time: 0 minutes
Ingredients
½ cup butter, softened
½ cup light brown sugar
½ cup peanut butter
1 (8-ounce) package cream cheese, softened
¾ cup powdered sugar
1 teaspoon vanilla
2 cups bite-size peanut butter cups, chopped
1 cup candy-coated peanut butter pieces or candy-coated chocolate pieces
Directions
In a large bowl, beat together the butter and brown sugar until they are completely combined. Then add the peanut butter and cream cheese, and continue to beat together until it is thoroughly mixed. Next, beat in the powdered sugar, a little at a time, along with the vanilla—you'll want a uniform color and texture. Now, fold in the chopped peanut butter cups.
Form the mixture into a loose ball (it will not hold it's shape very well yet), and enclose it in plastic wrap. Freeze the ball for 1½ to 2 hours, or until it can hold it's shape on its own. Shape the mixture into a ball, being careful not to overwork it, as it will begin to soften again. Roll it in the candy-coated peanut butter pieces, or candy-coated chocolates, if you prefer.
Once your cheeseball is completely coated in the candies, cover it with plastic wrap again, and freeze it for another 2 hours. Serve with your favorite wafer cookies, pretzels, fruit, or anything else that tickles your taste buds!