Homemade Peanut Butter Cups
By
Paula Deen
JUMP TO RECIPE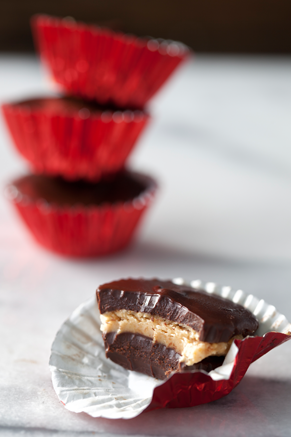 Difficulty: Medium
Prep time: 20 minutes
Cook time: 20 minutes
Servings: 20
Ingredients
1 lb chopped semi-sweet chocolate
1 cup creamy peanut butter
1/2 cup softened butter
1 cup graham cracker crumbs
1 cup powdered sugar
1/2 teaspoon kosher salt
Directions
Line the mini muffin pans with miniature muffin liners.
Melt chocolate in a double boiler or in a glass bowl set over a simmering saucepan of water (make sure that the bottom of the bowl is not touching the water).
Spoon 1 teaspoon melted chocolate into bottom of each cup of the miniature muffin pan. Let cool.
Using a hand held electric mixer, beat together the peanut butter, butter, graham cracker crumbs, sugar, and salt until completely mixed.
Press 1 teaspoon peanut butter mixture over chocolate, pressing to edges of cup. Spoon melted chocolate over peanut butter to cover. Repeat procedure with remaining chocolate and peanut butter mixture. Refrigerate for 30 minutes to set up.
Enjoy!