Lady and Sons Crab-Stuffed Shrimp
By
Paula Deen
JUMP TO RECIPE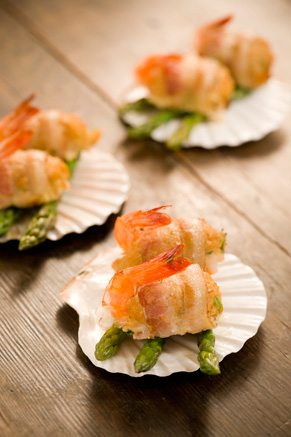 Difficulty: Medium
Prep time: 25 minutes
Cook time: 25 minutes
Servings: 25
Ingredients
1 stick plus 3 tablespoons, divided butter
3 finely chopped green onions
1/2 cup finely chopped green bell pepper
1/4 teaspoon garlic powder
1/2 quart plus 4 1/2 teaspoons heavy cream
1 tablespoon dijon mustard
1 dash cayenne pepper
1/2 cup saltine cracker crumbs
1/4 cup mayonnaise
1 egg
2 tablespoons fresh parsley
1/2 juiced lemon
1 lb picked over crabmeat
1 lb (about 24) peeled, deveined, tails on jumbo shrimp
12 slices halved crosswise bacon
cooked for serving (optional) white rice
1 cup plus 1 tablespoon olive oil
2 teaspoons minced, divided garlic
1/2 cup diced onions
1/4 cup white wine
1 teaspoon chicken base
3 tablespoons recipe follows pesto
1 teaspoon recipe follows Roux
2 cups fresh basil leaves
1 cup walnut pieces
1 cup grated Parmesan cheese
1 cup all purpose flour
Directions
Preheat oven to 350 °F.
Melt 1 tablespoon butter in a skillet over medium heat and cook green onions, green pepper and garlic powder until peppers are limp. Place in mixing bowl and add 4 1/2 teaspoons cream, mustard and cayenne pepper to sauteed vegetables, mix well.
Add cracker crumbs, mayonnaise, egg, parsley and lemon juice; mix well. Gently fold in crabmeat. Form into small patties sized to stuff into shrimp; set aside.
Split shrimp down the bottom center to tail, being careful not to cut through. Stuff each shrimp with crabmeat mixture. Wrap shrimp in bacon and secure with a toothpick. Place on a baking pan and cook at 350 °F until bacon is crisp and shrimp are pink, about 15 to 20 minutes.
To serve, arrange 6 shrimp on each plate on a bed of rice, if desired, or serve as an appetizer. Drizzle with Basil Cream Sauce.
Basil Cream Sauce:
Heat 2 tablespoons butter and 1 tablespoon olive oil in a skillet over medium heat, add 1 teaspoon garlic and onion and cook until lightly browned, about 5 minutes. Add white wine and reduce by half. Add 1/2 quart heavy cream and chicken base and reduce by half again. Add pesto and roux, bring to a simmer and heat until slightly thickened, about 2 to 3 minutes.
Pesto:
In a food processor, blend basil leaves, walnuts, 1 cup olive oil, 1 teaspoon garlic and Parmesan cheese until a coarse paste is formed. Place in an airtight container and refrigerate until ready to use.
Yield: about 1 1/2 cups
Roux:
Melt 1 stick of butter in a large skillet over medium-low heat. Slowly add flour and stir until lightly browned. Leftover roux can be stored, tightly covered, in the refrigerator for several weeks.
Yield: about 1 1/4 cups