John's Busters and Grits
By
John Besh
JUMP TO RECIPE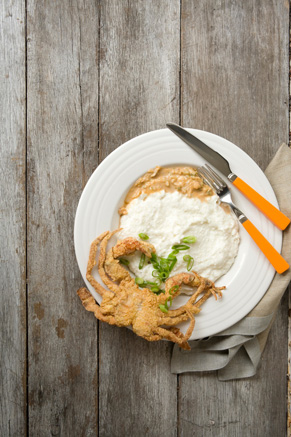 Difficulty: Medium
Prep time: 20 minutes
Cook time: 60 minutes
Servings: 6
Ingredients
Busters & Grits
1 quart canola oil, for frying
1/2 cup milk
4 eggs, beaten
1 cup cornmeal
1/2 cup all purpose flour
1 teaspoons Creole seasoning
1 quart water
1 cup fine-ground white corn grits
6 tablespoons butter
4 tablespoons mascarpone cheese
6 small soft-shell blue crabs, cleaned and trimmed
1 cup crab pan sauce, recipe follows
5 cloves garlic, minced, divided
1 green onion, chopped
2 dashes hot sauce
Crab Pan Sauce
1 tablespoon extra virgin olive oil
1 small onion, diced
1 fennel bulb, minced
1 teaspoon crushed red pepper flakes
1 sprig fresh thyme, leaves chopped
1 sprig fresh tarragon, leaves chopped
1 bay leaf
1 cup heavy cream
1/2 cup dry vermouth
1 cup crab stock
Directions
Busters & Grits
Preheat a deep-fryer with the peanut oil to 350 °F.
In a mixing bowl combine the milk, eggs, cornmeal, flour and Creole spice using a wire whisk, until smooth.
In a medium-size saucepan bring the water to a boil over medium heat and slowly add the grits, while stirring constantly. Once the grits come to a boil, reduce the heat to a low simmer. Cover and simmer for 20 minutes, stirring occasionally.
Once the grits have cooked for 20 minutes, stir in 3 tablespoons of the butter and the mascarpone cheese. Season, to taste, with salt and pepper.
Dip the soft-shell crabs into the cornmeal batter and carefully add them to the hot oil, 1 at a time. Fry until golden brown, about 1 to 1 1/2 minutes, before removing to absorbent paper towels and seasoning with additional salt.
Using a medium saucepan heat the Crab Pan Sauce with 3 cloves garlic and green onion. Bring to a boil and stir in the remaining 3 tablespoons of butter, the hot sauce and salt and pepper, to taste. Remove from heat once the butter has been added.
To plate this dish, spoon the grits into individual bowls with a generous amount of sauce ladled around the grits and topped with a fried soft-shell crab.
Crab Pan Sauce
Heat the oil in a pan over moderate heat. Add the onions, 2 cloves garlic, fennel and pepper flakes. Cook the vegetables, stirring often, for 3 minutes.
Add the thyme leaves, tarragon leaves, bay leaf, cream, vermouth and stock to the pan. Increase the heat to high and reduce the sauce by half, about 10 to 12 minutes. Remove and discard the bay leaf.