John Berendt's Favorite Angel Pie
By
John Berendt'
JUMP TO RECIPE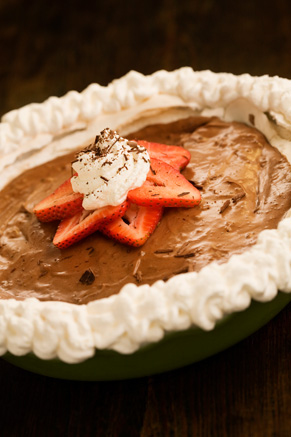 Difficulty: Medium
Prep time: 540 minutes
Cook time: 200 minutes
Servings: 10
Ingredients
4 egg whites, at room temperature
1 1/3 cups sugar, plus 1/2 cup for filling
2 teaspoons cornstarch
2 teaspoons white vinegar
3/4 teaspoon vanilla extract
1 (2 oz) square unsweetened chocolate, plus shavings for garnish
4 egg yolks
1/8 teaspoon salt
2 tablespoons water
2 cups heavy cream, whipped and divided
Directions
Preheat oven to 450 °F.
Grease a 9-inch pie pan.
To make the meringue, beat egg whites with a hand held electric mixer until soft peaks form. In a separate bowl, mix 1 1/3 cups sugar and cornstarch together, then add 2 tablespoons at a time to the egg whites, beating well between each addition. After the third addition, add the white vinegar. Before the last addition, add the vanilla extract. Place into the pie shell and press against sides to form a pie crust. Place in oven and turn off oven heat. Leave pie in oven at least 3 hours.
For filling, melt chocolate in a bowl over a double boiler. In another bowl, beat the yolks, 1/2 cup sugar, salt and water thoroughly. Stir mixture into melted chocolate. Cook mixture over double boiler stirring constantly until very thick. Cool mixture completely. Fold chocolate mixture into whipped cream. Pour into cooled shell and chill overnight.
Top with remaining whipped cream and garnish with chocolate shavings.