Jam Cake
By
Paula Deen
JUMP TO RECIPE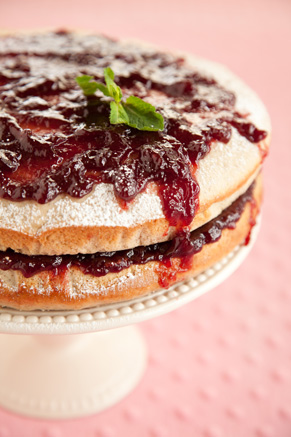 Difficulty: Easy
Prep time: 20 minutes
Cook time: 30 minutes
Servings: 8
Ingredients
1 cup sugar
1 cup jam (any fruit jam, we used seedless raspberry)
1 cup buttermilk
1 teaspoon baking soda
1 teaspoon ground cloves
1 teaspoon cinnamon
1 teaspoon ground nutmeg
3 cups all purpose flour
2 eggs
2 tablespoons shortening
1 teaspoon baking powder
Directions
Preheat oven to 350 °F.
Prepare two cake pans with non-stick cooking spray and line bottom of pans with parchment paper. In large mixing bowl, whisk together eggs, shortening and buttermilk. Slowly add sugar and whisk until combined. In a separate medium mixing bowl sift together flour, baking powder, nutmeg, cinnamon, cloves and baking soda. Slowly add dry mixture to egg mixture. Stirring until smooth. Spoon batter evenly into prepared baking pans and bake for 45 minutes. Let cool. Once cake is cooled spoon jam on one cake layer, top with other cake. Spoon the rest of the jam on top.
Notes from Paula'™s Kitchen: Children will love helping with this cake. The messier the better! We recommend adding an additional two tablespoons of shortening to add moisture to cake. Also making the cake in four thin layers would be a great way to get more jam. In this case you will need a 16 oz jar of jam.
Food Editor's Note:The actual recipe sent to Paula, is a very old. It was included in a precious handwritten book of recipes mailed to the corporate office. The pages brittle with age, wear and love. There were no instructions on how to bake the cake, just the ingredients. The result above is our interpretation of how we thought this cake would best be represented. The old recipe book now holds a place of honor in Paula'™s personal collection.