Italian Spaghetti and Colossal Meatballs
By
Paula Deen
JUMP TO RECIPE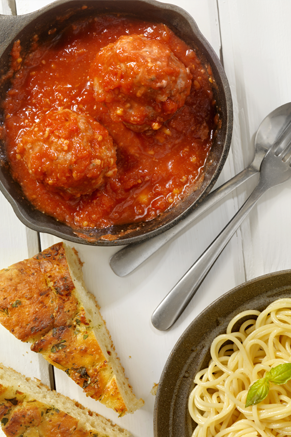 Difficulty: Medium
Prep time: 20 minutes
Cook time: 90 minutes
Servings: 12
Ingredients
Spaghetti
2 tablespoons olive oil
1 onion, chopped
4 cloves garlic, minced
1 (28-oz) can crushed tomatoes
1 (15-oz) can tomato sauce
1 (14.5-oz) can diced tomatoes
1/2 cup red wine
1/2 cup chopped fresh parsley
2 bay leaves
2 teaspoons dried basil
1 1/2 teaspoons dried oregano
1 1/2 teaspoons salt
1 teaspoon sugar
1/2 teaspoon ground black pepper
1 (1 lb) box cooked according to package directions spaghetti
Colossal Meatballs
1 1/2 lbs ground chuck
1 lb ground Italian sausage
3/4 cup panko bread crumbs
1/2 cup Parmesan cheese, grated
3 cloves garlic, minced
1 tablespoon fresh parsley
2 teaspoons dried basil
1 teaspoon salt
2 large eggs, lightly beaten
Directions
Spaghetti
In a large Dutch oven, heat olive oil over medium heat. Add onion and 4 cloves of minced garlic; cook for 6 to 8 minutes or until onion is tender. Add crushed tomatoes, tomato sauce, diced tomatoes, wine, 1/2 cup of parsley, bay leaves, 2 teaspoons dried basil, oregano, 1 1/2 teaspoons salt, sugar and pepper; bring to a boil, reduce heat, and simmer for 30 minutes, stirring frequently.
Add Colossal Meatballs, and simmer for 15 minutes. Discard bay leaves. Serve with cooked spaghetti. Garnish with chopped fresh parsley, if desired.
Colossal Meatballs
Preheat oven to 350˚F. Line a rimmed baking sheet with aluminum foil. Place a wire rack over baking sheet, and spray with nonstick cooking spray.
In a large bowl, combine ground chuck, sausage, panko, cheese, remaining 3 cloves minced garlic, 1 tablespoon parsley, 2 teaspoons basil and 1 teaspoon salt. Add beaten eggs, stirring gently to combine. Shape mixture into 2½-inch balls. Place on prepared rack, and bake for 30 minutes.