Irish Soda Bread
By
Paula Deen
JUMP TO RECIPE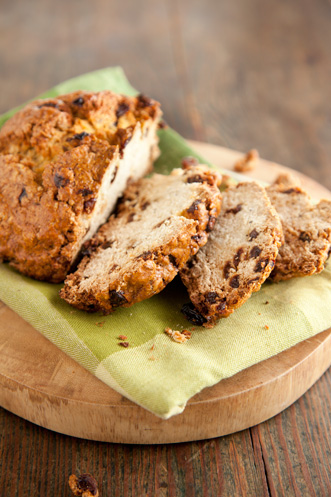 Difficulty: Easy
Prep time: 20 minutes
Cook time: 30 minutes
Servings: 12
Ingredients
4 cups all purpose flour
1/3 cup sugar
2 teaspoons baking soda
1/2 teaspoon salt
1/4 cup unsalted butter
1 cup buttermilk
1 cup raisins
1 tablespoon caraway seeds
1 egg yolk
1 tablespoon heavy cream
Directions
Heat oven to 400 °F. Arrange oven rack to the middle row. Line a sheet tray with parchment paper.
Add flour, sugar, baking soda and salt to a large bowl and whisk to combine. Add the butter and cut in using a pastry cutter until it looks like small peas. Add the buttermilk, raisins and caraway seeds and stir until it looks like a shaggy biscuit dough. Turn out on your cutting board and knead for 20 seconds until it comes together.
In a small bowl, whisk together the egg yolk and heavy cream. Divide the dough into two pieces. Form each into a round ball on the prepared sheet tray, tucking in the seams beneath the dough. Brush each round with the egg wash then score an "x" on the top of the round using a sharp knife.
Bake for 30 minutes, until golden browned, and when a wooden skewer inserted into the center of the loaf comes out clean. Let cool on a wire rack.