Lighter Irish Soda Bread
By
Deen Brothers
JUMP TO RECIPE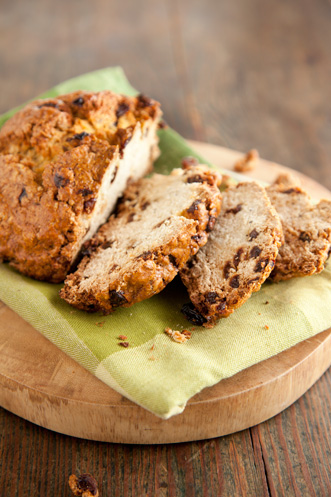 Difficulty: Easy
Prep time: 15 minutes
Cook time: 15 minutes
Servings: 15
Ingredients
1 cup low-fat buttermilk
1 large egg
2 cups all purpose flour
1 tablespoon sugar
1 teaspoon baking powder
1/4 teaspoon baking soda
1/4 teaspoon salt
3 tablespoons cold, cut into bits butter
1/3 cup coarsely chopped golden raisins
2 teaspoons caraway seeds
Directions
Preheat the oven to 350 °F. Spray an 8-inch round pie plate with nonstick spray.
Whisk together the buttermilk and egg in a medium bowl until blended. Combine the flour, sugar, baking powder, baking soda and salt in a large bowl. Cut in the butter with a pastry blender until the mixture resembles coarse crumbs. Add the buttermilk mixture, raisins and caraway seeds to form a soft dough.
Lightly sprinkle a work surface with flour and turn out the dough. With lightly floured hands, knead the dough lightly about 6 or 7 times. Form into an 8-inch round and place in the pie plate. Using a small sharp knife, cut a deep "€œx"€ into the dough. Dust the top lightly with flour. Bake until browned and a toothpick inserted in the center comes out clean, 45 to€" 50 minutes. Remove from the pie plate and cool on a rack. Serve warm or at room temperature.