Ice Cream Sundae Pizza
By
Paula Deen
JUMP TO RECIPE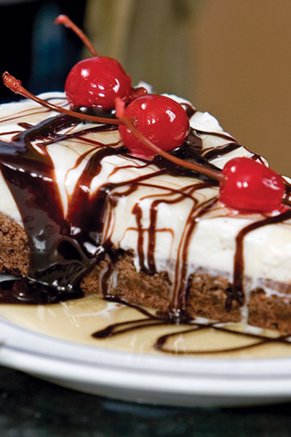 Difficulty: Easy
Prep time: 150 minutes
Cook time: 18 minutes
Servings: 8
Ingredients
1 (21-oz) package chewy fudge brownie mix
1/2 gallon vanilla ice cream, softened
caramel sauce
hot fudge topping
salted peanuts, chopped
maraschino cherries
whipped cream
Directions
Preheat oven to 350 °F. Lightly grease a 14-inch deep-dish round pizza pan.
Prepare brownie mix according to package directions. Pour batter into prepared pan, and bake 16 to 18 minutes. Let cool completely. Spread softened ice cream evenly over cooled brownie, to edges of pan. Freeze for 2 hours or up to 2 days.
Top pizza with ice cream toppings, peanuts, cherries, and whipped cream. Cut into wedges to serve.