Frozen Hot Chocolate
By
Paula Deen
JUMP TO RECIPE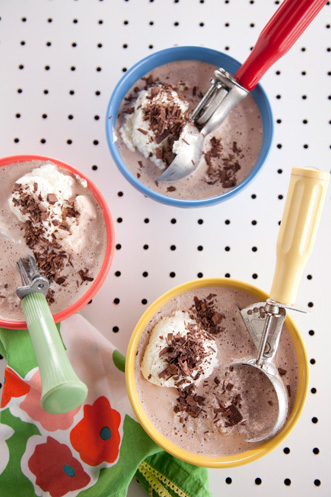 Difficulty: Easy
Prep time: 10 minutes
Cook time: 10 minutes
Servings: 10
Ingredients
1 1/2 cups milk
3 cups ice
1 1/2 tablespoons sugar
2 teaspoons hot chocolate mix
3 oz quality (or a variety of your favorites), plus shavings for garnish chocolate
for garnish whipped cream
Directions
Chop the chocolate into small pieces and melt in a small heavy saucepan or in the top of a double boiler over simmering water. Stir occasionally until melted. Add the hot chocolate mix and sugar, stirring constantly until blended.
Remove from heat and slowly add 1/2 cup of the milk, stirring until smooth. Cool to room temperature.
In a blender, place the remaining 1 cup of milk, the chocolate mixture, and the ice. Blend on high speed until smooth and the consistency of a frozen daiquiri. Pour into a giant goblet and top with whipped cream and chocolate shavings. Makes 1 gigantic serving.