Hot Buffalo Burgers with Blue Cheese
By
Deen Brothers
JUMP TO RECIPE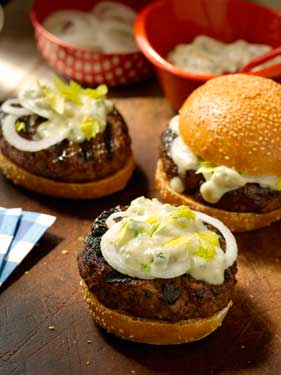 Featured in:
The Deen Bros. Get Fired Up
Difficulty: Easy
Servings: 8
Ingredients
1/2 cup crumbled blue cheese 2 ounces
1/4 cup mayonnaise
8 tablespoons 1 stick unsalted butter
5 tablespoons Tabasco
3 pounds ground beef
2 teaspoons salt
2 teaspoons freshly ground black pepper
8 hamburger buns
2 small Vidalia onions
1/2 cup chopped celery leaves
Directions
Make Ahead
In a small bowl, stir together the blue cheese and mayonnaise.
In a separate bowl, whisk together the butter and 2 1/2 tablespoons of the Tabasco.
In another bowl, mix together the ground beef, the remaining 2 1/2 tablespoons Tabasco, the salt, and pepper until just combined. Form the beef mixture into eight 1-inch-thick patties and brush with some of the Tabasco butter. Pack the patties into a plastic bag and place in the cooler to transport.
At the Game
Preheat the grill to medium-high heat and brush the grate with oil or spray with nonstick cooking spray.
Transfer the burgers to the grill. Close the cover and cook, brushing halfway through with more Tabasco butter, to the desired doneness, 3 to 5 minutes per side. Let the burgers rest off the grill while toasting the buns.
Meanwhile, place the buns on the grill, cut side down, until lightly toasted, about 1 minute.
Brush the burgers with additional Tabasco butter. Sandwich the onion slices, celery leaves, and a dollop of blue cheese dressing inside the buns and serve.