Honey Whole-Wheat Pancakes with Honey Lime Butter
By
Paula Deen
JUMP TO RECIPE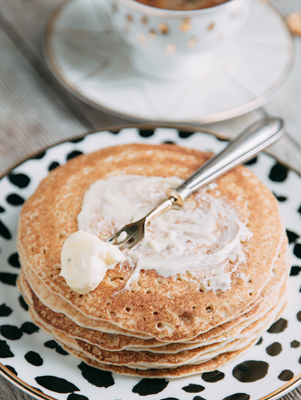 Difficulty: Easy
Prep time: 10 minutes
Cook time: 10 minutes
Servings: 10
Ingredients
1 1/2 cups all purpose flour
1/2 cup whole wheat flour
1/2 teaspoon baking soda
1/2 teaspoon salt
1/4 teaspoon ground cinnamon
2 cups buttermilk
2 eggs
8 tablespoons (1 stick) divided, plus more for cooking pancakes butter
1/4 cup plus 1 tablespoon, divided honey
1 zest finely grated lime
Directions
For the honey lime butter:
Whisk 4 tablespoons butter, 1/4 cup honey, and lime zest in a bowl until smooth, or pulse to combine them in a mini food processor. Refrigerate until ready to serve with the pancakes.
For the pancakes:
Whisk together the flours, baking soda, salt and cinnamon in a large bowl. In a separate bowl, whisk together the buttermilk, eggs, 4 tablespoons melted butter, and 1 tablespoon honey. Stir the wet ingredients into the dry ingredients until just combined; don't worry about lumps.
Melt 1 tablespoon of butter in a large skillet over medium-high heat. Working in batches, drop the batter, about 1/4 cup at a time, into the skillet. Cook until the surface is bubbling and the bottom is golden brown, 2 to 3 minutes. Flip each pancake and cook until the bottom golden brown and the pancake is firm, about 2 minutes more. Remove the pancake to a platter and cover with foil. Repeat with the remaining batter, using more butter if necessary. Serve topped with the honey butter.