Honey Mustard Glazed Ham
By
Paula Deen
JUMP TO RECIPE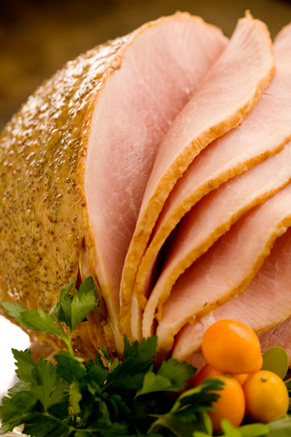 Difficulty: Easy
Prep time: 10 minutes
Cook time: 10 minutes
Servings: 10
Ingredients
1 (8-10 lb) whole ham
1 jar Paula Deen Honey Mustard Glaze
1/2 cup freshly squeezed orange juice
2 tablespoons orange zest
1 fresh sliced in rounds, for garnish orange
Directions
Preheat oven to 325 °F
Place ham in a pan with 1 cup of water, cover the pan tightly with aluminum foil or a lid and cook at 325 °F for 18 minutes per pound or to an internal temperature of 160 °F.
In a medium bowl, combine Paula Deen Honey Mustard Glaze, orange juice and zest. Reserve 4 tablespoons and set aside. During the last 45 minutes of baking baste the ham with the glaze mixture several times.
Let ham stand 10 minutes before carving.
While the ham is resting, baste with the reserved 4 tablespoons of glaze mixture. Garnish with fresh orange slices and serve