Homemade Chicken Stock
By
Jamie Deen
JUMP TO RECIPE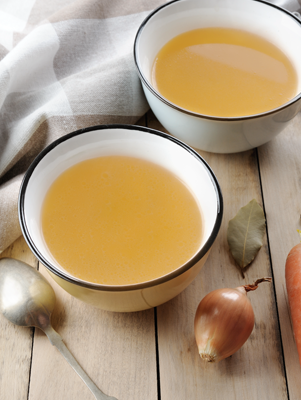 Featured in:
Jamie Deen's Good Food
Difficulty: Easy
Prep time: 5 minutes
Cook time: 2 hours
Ingredients
1 leftover chicken carcass
1 large onion, peeled and cut into chunks
1 carrot, scrubbed and cut into chunks
1 stalk celery, cut into chunks
3 sprigs fresh parsley
1 bay leaf
1 teaspoon black peppercorns
3 quarts cold water
Directions
Use kitchen shears to cut the chicken carcass into four pieces. Place the chicken in a stockpot with the onion, carrot, celery, parsley, bay leaf, and peppercorns. Cover with the water and bring it up to a simmer, then reduce the heat to low. Cook for 2 hours, skimming the top to remove fat and foam on occasion. (You don't want to boil your stock; instead, just let it bubble gently.)
Allow the stock to cool, then strain and discard the solids. The stock will keep for 1 week in a covered container in your fridge, or up to 6 months in your freezer.
Makes 1 quart.
Cooking tip: Alternatively, you can add all the ingredients to a slow cooker, top with the lid, and cook on low overnight.