Ham and Cream Cheese-Stuffed Chicken
By
Deen Brothers
JUMP TO RECIPE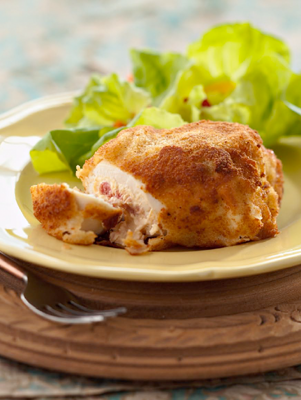 Featured in:
The Deen Bros. Y'all Come Eat
Difficulty: Easy
Servings: 4
Ingredients
4 boneless
1 8-ounce package cream cheese
1/2 cup finely chopped ham
1/4 teaspoon cayenne pepper or paprika if you like it mild
Onion salt
Freshly ground black pepper
Vegetable oil for frying
1/2 cup all-purpose flour
2 large eggs
1/2 cup dried bread crumbs
Directions
Place chicken breast halves between two sheets of plastic wrap. Using a meat mallet or the bottom of a heavy skillet, pound halves until 1/4 inch thick. Set aside.
In a medium bowl, stir together cream cheese, ham, cayenne pepper, and onion salt to taste. Mound one-fourth of the cream cheese mixture onto each flattened breast half. Pull the sides of the breast over the cream cheese and tuck in the ends. Use toothpicks as necessary to hold things together. (Don't worry if it doesn't look neat; this part will be on the bottom come serving time.) Season all over with additional onion salt and pepper.
In a large heavy pot, heat 2 inches of oil to 360¡F. Put the ß our in one bowl, the beaten eggs in a second bowl, and the bread crumbs in a third. Dip the stuffed chicken breasts first in the ß our, shaking off the excess; dip into the beaten eggs, then dredge in the bread crumbs to coat. Carefully place the chicken breasts in the hot oil; fry about 8 minutes or until deep brown, turning once or twice. Using tongs, transfer chicken breasts to a paper towel-lined plate to drain. Remove toothpicks before serving.