Ham and Black Eyed Pea Cake "Benedict" with a Roasted Red Pepper Sauce
By
Paula Deen
JUMP TO RECIPE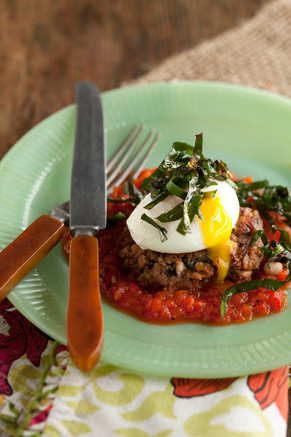 Difficulty: Medium
Ingredients
2 (15 oz) cans rinsed and drained black eyed peas
1 1/2 cups cooked and diced ham
1/3 cup chopped green onion
2 teaspoons dijon mustard
2 to 4 tablespoons enough to bind cakes all purpose flour
2 tablespoons butter
2 tablespoons vegetable oil
1 (16 oz) jar roasted red peppers
8 poached or fried eggs
1 tablespoon for poaching white vinegar
3 leaves finely chopped and deep fried crisp for garnish collard greens
Directions
In a medium bowl, coarsely mash beans with a fork, adding ham, green onion and mustard. Add just enough flour to mixture to help bind. Season with salt and pepper. Shape pea mixture into 8 cakes approximately 4″ in diameter. Melt butter and oil together in a large skillet over medium heat. Add cakes and brown on both sides until crispy. Keep warm while eggs are poaching.
For Roasted Red Pepper Sauce, drain peppers and place in blender. Blend until peppers are a sauce consistency. Do not over blend. Sauce should be slightly lumpy. Pulse in salt and pepper to taste. Set aside.
Eggs: May be poached or fried
For Poaching, fill a 10″ skillet with 3 inches of water. Add vinegar and bring to a low boil. Break eggs into the water (note: you can break the eggs into a cup first and slide into the water). Remove with a slotted spoon just when the whites are cooked through and yolks are still loose. Approximately 2-3 min.
To Assemble: Pool 2 tablespoons roasted red pepper sauce in the middle of a plate and spread out to a circle just larger than the black eyed pea cake. Place warm black eyed pea cake in the middle of the sauce circle and top with a hot poached egg. Drizzle a bit more of the sauce over the egg and garnish with fried chopped collard greens!
Cooks note: When poaching eggs, use eggs at room temperature to prevent yolks from breaking. The vinegar will help the eggs hold their shape.