Crab Benedict
By
Paula Deen
JUMP TO RECIPE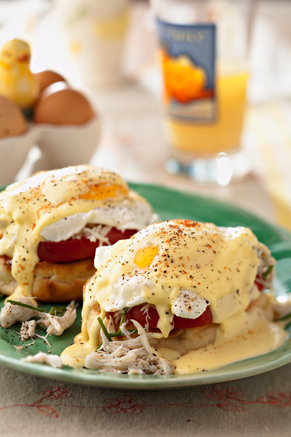 Difficulty: Medium
Prep time: 20 minutes
Cook time: 20 minutes
Servings: 20
Ingredients
1/4 cup finely chopped bell pepper
1/2 cup mayonnaise
1 teaspoon Worcestershire sauce
1 teaspoon hot pepper sauce
1/2 juiced, other half juiced for Hollandaise lemon
2 tablespoons chopped fresh parsley
2 cups picked free of shells lump crabmeat
2 egg yolks
4 tablespoons cream
4 tablespoons room temperature butter
dash cayenne pepper
pinch sugar
1 tablespoon plus 1 tablespoon for poached eggs white vinegar
3 cups water
1 teaspoon salt
4 large eggs
for serving biscuits
Directions
For the Crab Salad:
In a large bowl, whisk together mayonnaise, Worcestershire, hot pepper sauce, 1/2 a lemon's worth of juice, parsley, salt and pepper (to taste). Gently fold in the crab and peppers. Reserve.
*Cook's Note: When mixing the crab and peppers, be careful not to break up the crab too much.
For the Hollandaise Sauce:
Combine egg yolks, cream, butter, lemon juice, cayenne, salt and sugar in the top of a double boiler over boiling water. Whisk until thick, approximately 3 minutes; set aside until ready to use. Do not reheat or cover the pot. Thin, if needed with a little chicken broth. Stir in 1 tablespoon vinegar.
Bring the water, 1 tablespoon vinegar and 1 teaspoon salt to a low simmer in a medium saucepan.
Crack an egg into a small ramekin and gently slide the egg into the water. Crack another egg into the same cup and while the water returns to a low simmer, slide the second egg into the water. Repeat. Let lowly simmer until the eggs are set. This will take about 2 to 3 minutes for soft runny yolks. Remove with a slotted spoon onto a paper towel lined plate.
To Plate:
Top a biscuit with a poached egg. Add a small scoop of crab salad on top of the egg. Spoon the Hollandaise over the egg and garnish with parsley. Serve immediately.