Crab Eggs Benedict
By
Deen Brothers
JUMP TO RECIPE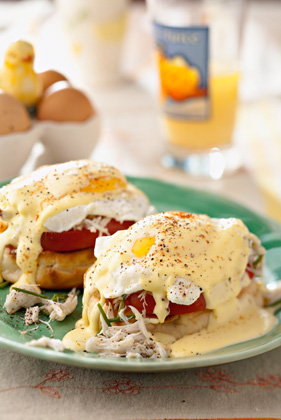 Featured in:
The Deen Bros. Y'all Come Eat
Difficulty: Easy
Servings: 6
Ingredients
1/2 cup 1 stick unsalted butter
3 large egg yolks
2 tablespoons freshly squeezed lemon juice
1/4 teaspoon salt
Freshly ground black pepper
Several dashes bottled hot pepper sauce
3/4 pound cooked lump crabmeat
2 tablespoons chopped fresh chives
2 tablespoons freshly squeezed lemon juice
1/2 teaspoon freshly ground black pepper
1 teaspoon white vinegar
6 large eggs
1 tomato
6 English muffins
Directions
For the hollandaise sauce, in a medium saucepan (preferably one with a lip for pouring), heat the butter until frothy. Use a spoon to skim off the foam. In a blender, whip the egg yolks, lemon juice, salt, pepper, and hot sauce for 3 to 5 seconds or until thickened. With the blender running, slowly pour in the hot butter, leaving the white milk solids at the bottom of the pan. Transfer the sauce to a bowl. Before serving, reheat the sauce in the bowl set
over a pan of simmering water.
In a medium bowl, stir together the crabmeat, chives, lemon juice, and 1/2 teaspoon pepper; set aside.
Bring a large pot of water to a boil; add the vinegar. Crack each egg into a separate cup. Reduce the water to a simmer and carefully slide the eggs, one by one, into the water. Simmer eggs for 3 to 5 minutes or until firm. Using a slotted spoon, transfer the eggs to a plate lined with a clean dish towel.
Place a tomato slice on the bottom half of each muffin. Top each tomato with some of the crab mixture and a poached egg. Drizzle warm hollandaise sauce over eggs. Serve immediately with English muffin tops.