Southern Gumbo
By
Paula Deen
JUMP TO RECIPE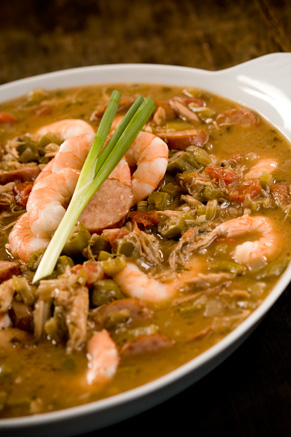 With this southern gumbo recipe, you can bring the cajun flavors of New Orleans to your home. It's loaded with shrimp, chicken and smoked sausage in
Show more
With this southern gumbo recipe, you can bring the cajun flavors of New Orleans to your home. It's loaded with shrimp, chicken and smoked sausage in a zesty tomato based stew. Pair with cornbread and serve hot.
Difficulty: Medium
Ingredients
4 sliced, white and green parts green onions
2 cup frozen sliced okra
1 (14 oz) can stewed tomatoes with juice
1/2 lb small deveined and cooked shrimp
5 beef bouillon cubes
1/4 bunch stems and leaves flat leaf parsley
3 stalks chopped celery
8 cloves minced garlic
1/4 cup Worcestershire sauce
1 seeded and chopped green bell pepper
1 large chopped onion
5 tablespoons margarine
1/2 cup all purpose flour
1/4 cup vegetable oil
1 lb cut into 1/4 inch slices smoked sausage
3 large boneless chicken breast halves
4 cups hot water
chopped fresh parsley
to taste salt
to taste black pepper
Directions
Season the chicken with salt and pepper. Heat the oil in a heavy bottomed Dutch oven over medium-high heat. Cook the chicken until browned on both sides and remove. Add the sausage and cook until browned, then remove. Sprinkle the flour over the oil, add 2 tablespoons of margarine and cook over medium heat, stirring constantly, until brown, about 10 minutes. Let the roux cool.
Return the Dutch oven to low heat and melt the remaining 3 tablespoons margarine. Add the onion, garlic, green pepper and celery and cook for 10 minutes. Add Worcestershire sauce, salt and pepper to taste and the 1/4 bunch parsley. Cook, while stirring frequently, for 10 minutes. Add 4 cups hot water and bouillon cubes, whisking constantly. Add the chicken and sausage. Bring to a boil, then reduce the heat, cover and simmer for 45 minutes. Add tomatoes and okra. Cover and simmer for 1 hour. Just before serving add the green onions, shrimp and chopped parsley.