Grilled Vegetable Pasta Salad
By
Paula Deen
JUMP TO RECIPE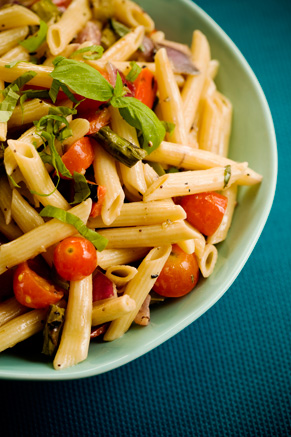 Difficulty: Easy
Prep time: 10 minutes
Cook time: 10 minutes
Servings: 10
Ingredients
1 lb cooked until firm to the bite penne pasta
2 cups halved grape tomatoes
1 large peeled and cut into 1/2 inch thick wedges red onion
1 lb trimmed asparagus
1 cored, seeded and cut in half green bell pepper
2 cored, seeded and cut in half red bell peppers
1 1/4 cups Paula Deen Vidalia Onion Peppercorn Dressing
10 stacked, rolled and cut into very thin strips fresh basil leaves
Directions
In a square baking dish toss vegetables with 1 Cup of the Paula Deen Vidalia Onion Peppercorn Dressing and place in the refrigerator for 1 hour.
While vegetables are marinating, cook pasta until firm to the bite and heat outdoor grill until medium hot.
Note: If pasta is holding long, drizzle with canola oil and toss to coat. This will keep pasta separated.
Working in batches, grill the peppers, asparagus and onion about 3 minutes per side until grill marks appear but vegetables are still firm.
Remove the vegetables from the grill and cool slightly until you can cut the peppers, asparagus and onions into large pieces.
In large bowl or on serving platter, toss together the cooked pasta, grilled vegetable pieces, and tomatoes and remaining 1/4 cup dressing. Toss in basil. Serve room temperature.