Grilled Red Pepper and Bow-tie Pasta Salad
By
Deen Brothers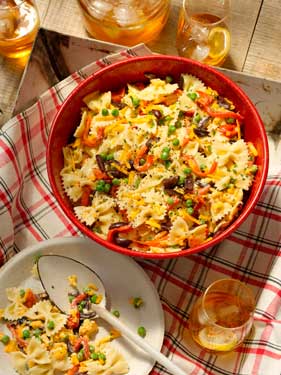 Ingredients
1 red bell pepper
2 teaspoons olive oil
Salt and freshly ground black pepper
6 tablespoons mayonnaise
2 tablespoons finely chopped fresh chives
1 tablespoon balsamic vinegar
4 cups cooked bow-tie pasta 4 ounces dry pasta
3/4 cup frozen peas
1 cup grated Cheddar cheese 4 ounces
1/2 cup pitted kalamata olives
Directions
In a small bowl, toss the bell peppers with the olive oil and season with salt and pepper.
Preheat the grill to medium-high heat.
Arrange the bell peppers in a grill basket. Transfer the basket to the grill. Close the cover and cook until the bell peppers are tender and slightly charred, 2 to 3 minutes per side. Cool completely, then cut into 1/4-inch-thick strips.
In a small bowl, whisk together the mayonnaise, chives, vinegar and salt and pepper to taste.
In a large bowl, combine the pasta, peas, Cheddar cheese, bell peppers and olives. Add the mayonnaise dressing and toss well to coat. Taste and adjust the seasonings, if necessary, before serving.