Black Pepper Crusted Filet Mignon with Goat Cheese
By
Paula Deen
JUMP TO RECIPE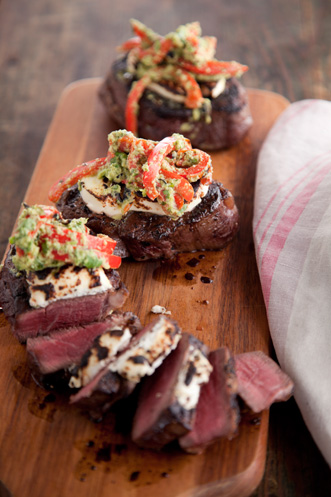 Difficulty: Medium
Prep time: 15 minutes
Cook time: 15 minutes
Servings: 15
Ingredients
2 ancho chiles
3 cloves coarsely chopped garlic
2 tablespoons pine nuts
2 teaspoons honey
2 grilled cut into 1/4 in thick strips red bell peppers
3 tablespoons red wine vinegar
3 tablespoons chopped, plus leaves for garnish fresh cilantro
1/4 teaspoon plus 1 teaspoon for filet mignon kosher salt
1/4 teaspoon freshly ground pepper
4 (8 oz) steaks filet mignon
1 tablespoon canola oil
4 teaspoons coarsely ground black pepper
8 oz cut into 4 slices fresh goat cheese
Directions
Roasted Red Pepper and Ancho Salsa:
Place the ancho chiles in a medium bowl, cover with boiling water and let sit at room temperature for 1 hour.
Remove the chiles from the soaking liquid, stem and coarsely chop, and combine in a blender with the garlic, pine nuts, honey and 1/4 cup of the soaking liquid. Blend until smooth.
Pour the mixture into a medium bowl and stir in the bell pepper strips, vinegar, cilantro, 1/4 teaspoon salt and 1/4 teaspoon pepper. Cover and let sit at room temperature for at least 30 minutes and up to 4 hours before serving.
Black Pepper Crusted Filet Mignon with Goat Cheese: Heat your grill to high.
Brush the filets with the oil and season both sides of each filet with 1 teaspoon salt salt and 1 side of each filet with the 4 teaspoons black pepper. Place the steaks on the grill, pepper side down and grill until lightly charred and crusty, 2 to 3 minutes. Turn the steaks over, and grill for 2 to 3 minutes longer for medium-rare.
Turn the steaks, once more so that the pepper side is facing up and top each filet with a slice of the cheese. Close the cover and grill until the cheese begins to melt slightly, about 1 minute.
Remove the steaks from the grill, let rest for 5 minutes. Top each filet with the roasted red pepper-ancho salsa. Garnish with cilantro leaves, before serving.