Grilled Vegetable Basket
By
Paula Deen
JUMP TO RECIPE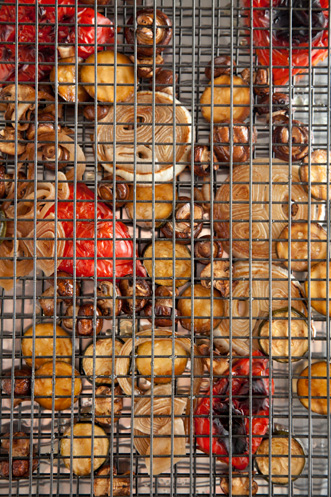 Difficulty: Easy
Prep time: 10 minutes
Cook time: 10 minutes
Servings: 10
Ingredients
8 oz cremini mushrooms
1 cut into 1/4-inch thick slices zucchini
1 seeded and cut into 1/4-inch thick slices red bell pepper
1 or white onion, cut into 1/4-inch thick rings Vidalia onion
1/3 cup balsamic vinegar salad dressing
Directions
Preheat the grill to medium, or preheat the broiler. If using a broiler, line a baking sheet with foil.
Combine all of the ingredients in a shallow dish and allow the vegetables to marinate while the grill or broiler heats up.
Put the vegetables in a grilling basket or, if broiling, transfer the vegetables to the prepared baking sheet. Grill or broil, 4 inches from the heat, turning once, until the vegetables are cooked through and lightly charred, about 20 minutes. Transfer to a serving bowl and serve.