Grilled Tuna With Olive Tapenade
By
Paula Deen
JUMP TO RECIPE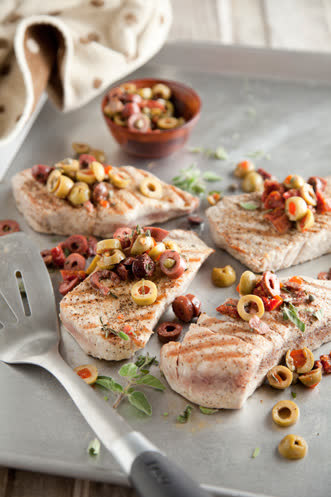 Difficulty: Easy
Prep time: 15 minutes
Cook time: 15 minutes
Servings: 15
Ingredients
1/2 cup pitted chopped kalamata olives
1/2 cup chopped green olives with pimientos
1 tablespoon (packed in oil), chopped sun-dried tomatoes
1 teaspoon chopped fresh thyme
1 teaspoon fresh oregano
1 tablespoon olive oil
1 tablespoon capers
1 teaspoon lemon juice
4 (6 to 8 oz) 1-inch thick tuna fillets
1/2 teaspoon salt
1/2 teaspoon black pepper
Directions
In a medium bowl, combine the olives, tomatoes, thyme, oregano, oil, capers and lemon juice.
Spray a grill rack with nonstick, nonflammable cooking spray. Preheat the grill to medium-high heat.
Sprinkle the fish with salt and pepper. Grill the tuna until desired degree of doneness, about 3 minutes per side. Serve the tapenade over the grilled fish.