Tuna Steaks with Lemon Pepper Butter
By
Paula Deen
JUMP TO RECIPE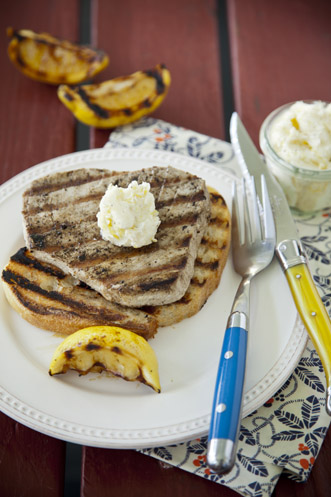 Difficulty: Easy
Ingredients
1/2 cup softened unsalted butter
2 tablespoons lemon zest
1 tablespoon fresh lemon juice
1/2 teaspoon freshly ground black pepper
1/4 teaspoon garlic powder
8 slices your favorite bread
4 tablespoons divided olive oil
8 6 to oz 1-inch thick tuna steaks
lemons
sugar
Directions
For the lemon pepper butter: In a small bowl, combine the butter, lemon zest, lemon juice, pepper, and garlic powder, stirring until smooth. Cover and chill.
For the tuna: Preheat the grill to medium-high heat, about 350 degrees F. Spray the grill rack with nonstick, nonflammable cooking spray.
Brush the bread slices evenly with 2 tablespoons olive oil. Grill the bread until toasted, 2 to 3 minutes per side. Remove from the grill and set aside.
Brush the tuna evenly with the remaining 2 tablespoons olive oil. Sprinkle each steak evenly with salt and pepper. Grill the tuna for 3 to 4 minutes per side, or until desired degree of doneness. Place each tuna steak over 1 slice grilled bread. Top each tuna steak with desired amount of lemon pepper butter. Garnish with Caramelized Lemon Slices, if desired. Serve immediately.
Caramelized Lemons:
Preheat a grill to medium-high heat.
Slice the lemons. Dip the cut side down into a bowl of sugar. Place on the grill, cut-side down, and grill until caramelized, 2 to 3 minutes.