Grilled Strawberries with Orange Cream
By
Paula Deen
JUMP TO RECIPE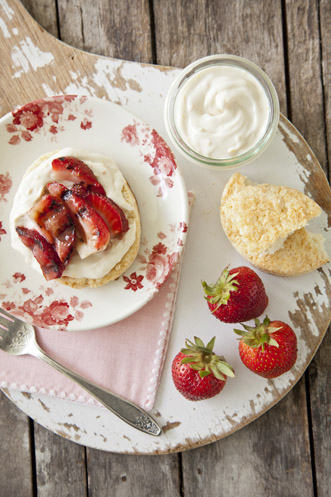 Difficulty: Easy
Prep time: 10 minutes
Cook time: 10 minutes
Servings: 10
Ingredients
1 cup sour cream
2 tablespoons plus 1 teaspoon firmly packed brown sugar
1 teaspoon vanilla extract
1 teaspoon orange zest
1 quart fresh strawberries
2 1/2 cups plus more for rolling dough all purpose flour
1/2 cup sugar
2 teaspoons baking powder
1/2 teaspoon salt
1/2 cup butter
3 oz cream cheese
1/3 cup plus 1 tablespoon for brushing heavy cream
1 tablespoon turbinado sugar
Directions
Preheat the grill to medium heat. Spray the grill rack with nonstick, nonflammable cooking spray.
In a small serving bowl, combine the sour cream, brown sugar, vanilla extract, and orange zest. Set aside.
Thread the strawberries evenly onto the skewers. Grill the strawberries until barely softened, about 1 minute per side. Serve skewered strawberries with orange cream and Cream Scones.
Cream Scones:
Preheat the oven to 375 degrees F. Line a baking sheet with parchment paper.
In a medium bowl, combine the flour, sugar, baking powder, and salt. Using a pastry blender, cut in the butter and cream cheese until the mixture is crumbly. Add the heavy cream, stirring just until the dry ingredients are moistened.
Turn the dough out onto a lightly floured surface. Roll or pat the dough to 1-inch thickness. Cut the scones using a 2 1/2-inch round cookie or biscuit cutter. Place on the prepared baking sheet. Brush the tops with the remaining tablespoon cream and sprinkle with turbinado sugar. Bake until golden brown, about 12 minutes.