Grilled Marinated Flank Sandwiches
By
Paula Deen
JUMP TO RECIPE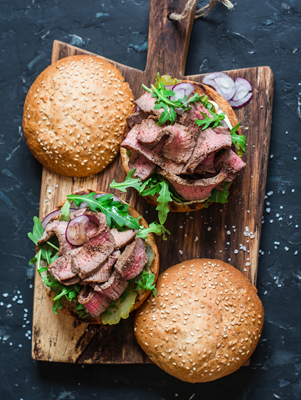 Difficulty: Easy
Prep time: 15 minutes
Cook time: 15 minutes
Servings: 15
Ingredients
3/4 cup soy sauce
1/4 cup olive oil
3 tablespoons Worcestershire sauce
2 tablespoons plus 1/2 teaspoon for horseradish sauce fresh lemon juice
3 cloves minced garlic
2 teaspoons black pepper
1 (4 1/2 lb) trimmed flank steak
2 teaspoons minced green onion
1 cup mayonnaise
6 slices cooked and crumbled bacon
2 teaspoons prepared horseradish
1/4 teaspoon lemon zest
12 to 15 split, buttered, and toasted onion rolls
for serving arugula
Directions
For the marinade: In a large resealable plastic bag, combine the soy sauce, oil, Worcestershire sauce, 2 tablespoons lemon juice, garlic and pepper. Add the flank steak, seal the bag, and refrigerate for at least 8 hours.
Preheat a grill to medium heat.
Drain the steak, discarding the marinade. Place the steak on the grill. Grill 4 to 5 minutes on each side, or until desired temperature. (You may also bake at 425º until a meat thermometer inserted in thickest portion reads 145º, 40 to 45 minutes.) Let stand for 10 minutes before slicing.
For the bacon horseradish sauce: In a small bowl, combine the green onions, mayonnaise, bacon, horseradish, lemon zest and 1/2 teaspoon lemon juice. Cover and chill.
To assemble: Spread desired amount of Bacon Horseradish Sauce over the bottom of the rolls. Top with desired amount of arugula. Top with sliced flank steak. Cover with roll tops. Serve immediately.