Michael's Grilled Steak Sandwiches
By
Paula Deen
JUMP TO RECIPE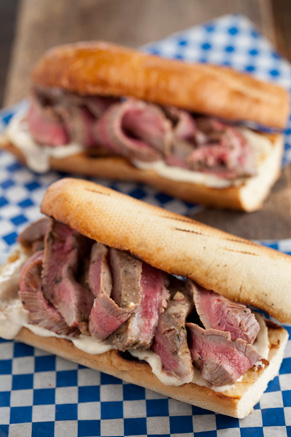 Difficulty: Easy
Prep time: 10 minutes
Cook time: 10 minutes
Servings: 10
Ingredients
1 1/2 tablespoons soy sauce
1 tablespoon dijon mustard
2 cloves minced garlic
1 1/2 teaspoons dried oregano
1 teaspoon Paula Deen's House Seasoning
3/4 cup vegetable oil
2 lbs flank steak
1 sliced baguette
2 tablespoons softened butter
(store-bought sauce) prepared horseradish
Directions
In a bowl, whisk together the soy sauce, mustard, garlic, oregano and House Seasoning. Slowly whisk in the vegetable oil until fully incorporated.
Add the steak to the marinade. Cover and let sit for at least 1 hour and as long as overnight, refrigerated.
Heat the grill to medium-high. Grill the steak, turning once, for 4 to 5 minutes per side for medium rare. Transfer the steak to a serving platter to rest. Spread the baguette slices with butter, and grill for about 1 to 2 minutes per side. Set aside in a serving bowl.
Slice the steak and serve with prepared horseradish sauce and the baguette slices.