Green Tomato Chutney
By
Paula Deen
JUMP TO RECIPE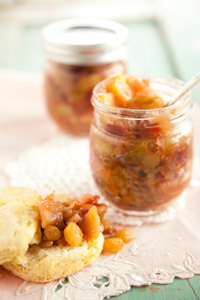 Difficulty: Medium
Prep time: 15 minutes
Cook time: 15 minutes
Servings: 15
Ingredients
2 lbs green tomatoes
2 lbs peeled, cored and diced Granny Smith apples
2 medium diced sweet onions
1 sliced and seeded lemon
1 sliced and seeded orange
1 clove minced garlic
1/2 cup golden raisins
1/2 cup dried cranberries
1 1/2 tablespoons mustard seed
1/2 tablespoon ground red pepper
1 tablespoon ground ginger
1/2 tablespoon ground cinnamon
2 cups apple cider vinegar
1 1/2 lbs light brown sugar
6 1 pint with lids and bands canning jars
Directions
In a large Dutch oven, combine all ingredients. Cook over medium-high heat, stirring frequently, until mixture comes to a boil. Reduce heat to medium and cook, stirring occasionally, for one hour or until thickened. Remove from heat.
Sterilize jars, lids and bands just before using for 10 minutes in simmering water or the dishwasher. Remove one at a time when ready to fill.
While chutney is still hot, ladle into the hot sterilized jars, filling to within 1/4 inch of the rim. Wipe rims with a clean damp cloth, and seal jars with lids and bands. Process in a boiling water bath for 10 minutes. Remove from water bath, and cool completely at room temperature. Makes 6 pints.