Gazpacho
By
Paula Deen
JUMP TO RECIPE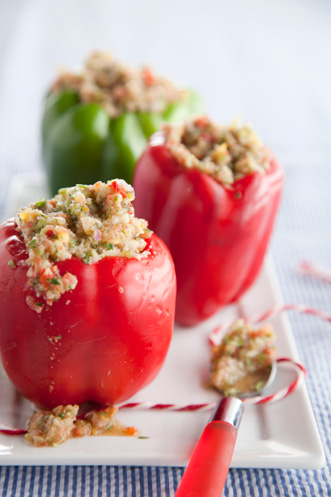 Difficulty: Easy
Prep time: 25 minutes
Cook time: 25 minutes
Servings: 25
Ingredients
2 lbs ripe diced tomatoes
1 peeled and diced seedless cucumber
1/2 cup diced red onion
1/3 cup seeded and diced green pepper
1/3 cup seeded and diced yellow pepper
1/3 cup seeded and diced red pepper
3 cups minced fresh cilantro
2 cloves minced garlic
1/4 cup olive oil
2 tablespoons sherry vinegar
1 cup fresh breadcrumbs
1 cup recipe follows tomato water
1 lb very ripe tomatoes
1/2 tablespoon kosher salt
Directions
Combine the first 8 ingredients in a large bowl and blend using an immersion blender.
*Cook's Note: If you prefer chunky soup- do not blend all the way. If you prefer smooth soup, blend the vegetables until chunk-free.
Mix in the olive oil and vinegar. Add bread crumbs, tomato water, salt and pepper.
Chill for 4 to 8 hours before serving to allow flavors to meld. For extra flair/creativity, hollow out 6 bell peppers to act as the bowls for the soup.
Tomato Water:
Combine 1 lb ripe tomatoes and the salt in a blender and puree on high until smooth. Place some cheesecloth in a strainer and allow the liquid to slowly drip through. Reserve the liquid.