Green Beans with Walnuts, Cranberries and Blue Cheese
By
Deen Brothers
JUMP TO RECIPE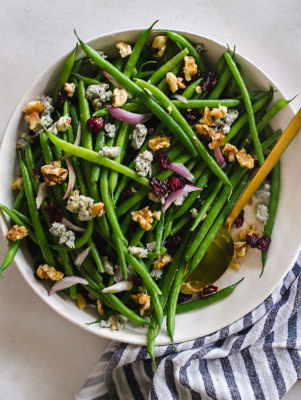 Difficulty: Easy
Prep time: 15 min
Cook time: 5 min
Servings: 8 servings
Ingredients
1 3/4 pounds green beans
3 tablespoons roasted walnut oil
1 tablespoon sherry vinegar
1 heaping teaspoon Dijon mustard
1 teaspoon kosher salt
1/2 teaspoon freshly ground black pepper
3/4 cup toasted walnuts
1/3 cup dried cranberries
1 small shallot
2 ounces blue cheese, crumbled
Directions
Blanch the green beans in a large pot of boiling salted water until tender-crisp, 3 minutes. Remove the green beans from the boiling water, run under cold water for a few minutes to stop the cooking, and then drain and dry well.
Whisk together the walnut oil, vinegar and Dijon mustard in a small bowl. Stir in the salt and pepper.
Add the cool green beans to a large bowl and toss in the walnuts, cranberries and shallots and drizzle in the vinaigrette. Place on a platter or serving dish and sprinkle with the blue cheese.